---
While there is not a universally accepted definition of "branding", in general this term is taken to refer to all the techniques that producers and business people adopt to differentiate their products or services from those of their competitors, and to attract consumers, gain their trust and establish their loyalty towards their products/services. Marketing techniques and tools play undoubtedly a crucial role in this regard. Branding can also be seen as a set of (positive) associations that a particular product (or service) is capable of generating in the mind of target consumers. Finally, branding certainly talks about the "personality" of your company, its essence and values. In short, it is a strategy to capitalize on your strengths and captivate current and potential consumers.
In the current global economy, consumers can choose their products or services from a wide variety of sources. The criteria that will guide their choice include price, technical features, aesthetical considerations, better quality, and so on. Once consumers have had a positive experience with a given product or service, they develop a level of trust and some sort of loyalty towards its producer or provider. This reciprocal trust between producers and consumers is at the core of branding, which may represent the key to your commercial success.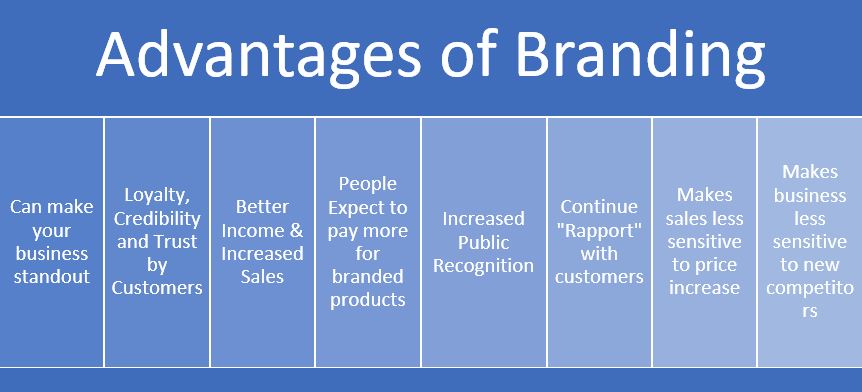 Therefore, if you want to enhance the chances for success of your company, not only at home but also abroad, make sure you embrace a carefully conceived branding strategy. This will include the adoption of a trademark (that will enthuse potential consumers and make them proud of being associated with your product), and a clear focus on the ornamental and aesthetic shape of your product (protected as industrial design), making it so beautiful that consumers around the world will prefer yours as compared to those of your competitors. In some specific sectors, you may also take advantages of the image and reputation associated with a given geographical indication. Undoubtedly, you will have to adopt a domain name, which is somewhat linked to your trademark to enable consumers to locate your business online.
However, branding is not only about IP and IP rights. It requires also capacity to effectively market your products or services through the most appropriate means (including advertisement in traditional media such a TV, radio and newspapers, as well as digital marketing), adopting the right type of packaging, etc., and sending out the right kind of message that you want to have associated with your mark or design - value, sophistication, durability, style and suchlike.
Branding requires ongoing human and financial efforts to advertise and market your products and services, to develop new and improved products. However, successful companies realize that branding is not a liability, but a potentially very rewarding investment. See following sections on Marketing, Packaging, and Advertising.
---
Next page: Marketing
Go to the Table of Contents