---
To guarantee the success of IP Commercialisation, a good market analysis should be carried out for all the markets where the new products or services will be commercialized. The term "markets" refers both to the geographical market (i.e.: the country where you want to commercialize your products or services that encompass your IPRs), as well as the specific product market (i.e.: the characteristics of the market relating to your products or services, such as the customers' demand, the existence of competitors or substitute products, etc.). Such market analysis should therefore entail an evaluation of:
The value of your IP rights (see Section A.3 on IP Valuation).
Size of the potential market (is it a 4-million or 90-million people market?).
Customers' actual and potential demand.
Customers' purchasing power.
Competing or similar products or services already in the market, or that might enter the market in the near future.
Competitors' size and capacity (actual and potential).
Potential business partners – e.g. licensees or buyers.
All relevant logistical issues to ensure that your products or services can effectively be delivered on that geographical market (e.g.: existence of infrastructure such as ports, airports, roads, delivery and transportation services, etc.).
Domestic legal framework affecting your business.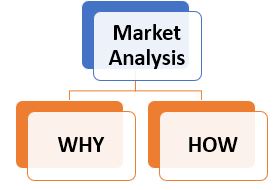 WHY
SMEs should conduct a market analysis because it can help them to:
Understand their competitive position in comparison to other players.
Identify both the opportunities and threats that they might experience.
Understand their and their competitors' strengths and weaknesses.
Acquire a solid idea of the industry/sectoral potential scenarios, including by identifying possible niches.
HOW
There are essentially three simple and yet very effective tools to carry out a market analysis. In all three approaches, IP considerations should play a crucial role.

See Handbook on IP Commercialisation, Section A.1 for a description of how to conduct a SWOT Analysis and a PESTL analysis, how to implement the Competitive Forces Model (also known as the "Porter's 5 Forces"), and how to use their results to draft your business plan.
---
Next page: Commercialisation of IP - Audit
Go to the Table of Contents