Overview of The AANZFTA Economic Cooperation Support Programme (AECSP)
---
To implement the AANZFTA Chapter on economic cooperation, an AANZFTA Economic Cooperation Support Programme (AECSP) was established in 2009 comprised of two components - the Economic Cooperation Work Programme (ECWP) and the AANZFTA Support Unit (ASU) in the ASEAN Secretariat.
The ECWP consists of annual programmes outlining the objectives and assistance provided to Parties across the following eight components linked to key chapters of the AANZFTA, namely: Rules of Origin; Customs Procedures; Sanitary and Phytosanitary Measures; Standards, Technical Regulations and Conformity Assessment; Services; Investment; Intellectual Property; and Competition.
The AANZFTA Support Unit was established to assist the Parties in the implementation of the AANZFTA through the ECWP and to support the FTA Joint Committee in monitoring and tracking the implementation of the AECSP.
The AECSP is aimed at contributing to and supporting:
the operationalization of AANZFTA so that implementation difficulties are kept to a minimum;
AANZFTA's built-in agenda, including preparatory work and any necessary capacity development activities;
economic integration among and strengthening the links between the Parties; and
business utilization of AANZFTA opportunities.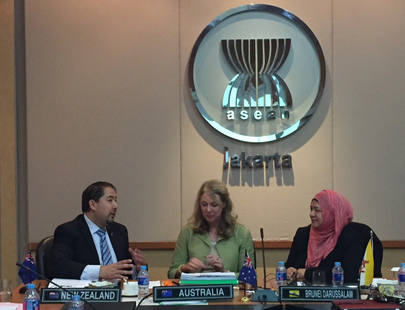 (Photo: AANZFTA Support Unit)
Read More: