AANZFTA Explores Leniency Programs To Tackle Business Collusion
2 June 2017
---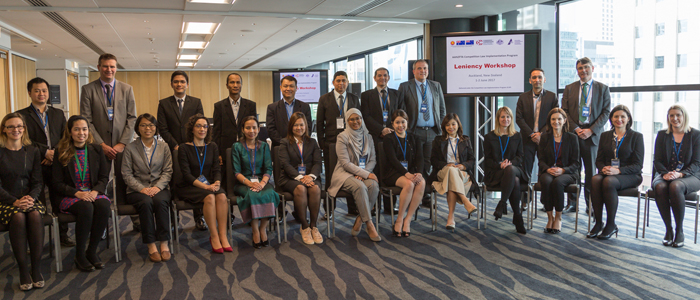 Auckland, New Zealand, 1-2 June 2017. When businesses collude, they can raise prices of goods and services beyond what the market would otherwise tolerate. If left unchecked, this reduces incentives for business innovation and efficiency while consumers are left to bear the burden of high prices. The effective detection of cartels is vital in avoiding the costs to society stemming from collusion.
Detecting cartels, however, poses a challenge for competition authorities as cartels tend to operate covertly. Encouraging businesses and individuals to disclose cartel behaviour, therefore, is an effective way to expose cartel conduct. Leniency programs provide a mechanism for competition authorities to detect, stop and then deter cartels.
Competition officials from all ASEAN Member States, Australia and New Zealand gathered in Auckland to engage with the topic of leniency and share ideas on dealing with cooperating businesses. The workshop, held from 1 to 2 June, discussed the risks and opportunities associated with leniency programs as well as the practical considerations for regulators in implementing leniency programs.
In attendance at the workshop was Mr Aung Min Thyke, Chair of the ASEAN Experts Group on Competition. Mr Aung Min noted "The convening of this workshop is timely as it aims to enhance our understanding of leniency programs. Only a few ASEAN Members States (AMS) have leniency programs in place, while the remaining are anticipating or are in the process of advocating for reform to address this gap."
Among the presenters at the workshop was Mr Marcus Bezzi, Executive General Manager, Competition Enforcement at the Australian Competition and Consumer Commission. Mr Bezzi remarked that "Over many years, Australia has found leniency to be the most powerful tool to tackle the insidious effects of collusion between businesses."
Mr Bezzi added: "As commerce becomes more integrated with that of our neighbours, regulators must work closely with our counterparts for the common benefit of all our citizens."
Workshop, participants learned about the benefits and limitations of leniency, examined country experiences of implementing leniency from competition officials, and identified practices for designing and applying these programs.
The workshop is one of many delivered by the ACCC under the Competition Law Implementation Program (CLIP) supported by the ASEAN-Australia-New Zealand Free Trade Agreement (AANZFTA) Economic Cooperation Support Program. CLIP promotes collaboration between competition agencies in the region to share resources, skills and techniques.
---
Find more
media releases