AANZFTA Explores The Role Of Economics In Competition Law Enforcement
9 February 2017
---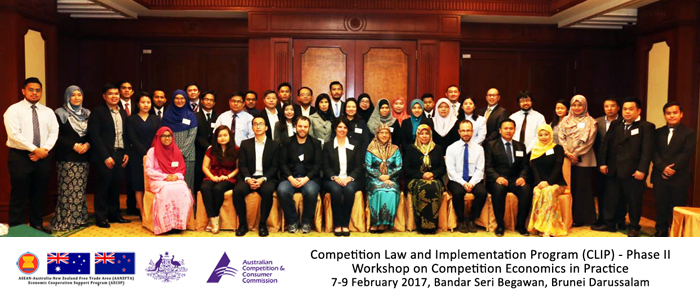 Brunei Darussalam, 9 February 2017 - Competition officials from ASEAN Member States, Australia, and New Zealand attended a Competition Economics in Practice Workshop held from 7 to 9 February 2017 in Brunei Darussalam. The regional Workshop is a key activity under the Competition Law Implementation Program (CLIP) – Phase II supported by the ASEAN-Australia-New Zealand Free Trade Area (AANZFTA) Economic Cooperation Support Program (AECSP).
The Workshop sought to provide ASEAN competition officials with economic thinking and analysis tools in competition investigations. Led by senior economists from the Australian Competition and Consumer Commission (ACCC) and the New Zealand Commerce Commission (NZCC), participants discussed real-world cases and exchanged views on opportunities, challenges, and practical approaches in using economists and/or applying economic analysis in competition matters, including in market studies, anti-competitive practices and mergers.
"Building the capacity and understanding of economists on how economic analysis could contribute to detecting and investigating harmful anti-competitive conduct is critical if competition agencies are to be as effective as possible in administering and enforcing their competition laws," said Ms. Heidi Farah Sia Rahman, Head of Competition and Consumer Affairs Division, Department of Economic Planning and Development, Prime Minister's Office of Brunei Darussalam.
Effective competition law enforcement is a regional priority as reflected in the ASEAN Competition Action Plan (2016 to 2025). AECSP supports the strengthening of ASEAN Member States' capacities in implementing their national competition laws and policies through the expert advice and assistance provided by ACCC and NZCC under CLIP Phase II.
Strong and enforceable competition laws enable a level playing field for all business enterprises in the AANZFTA region and will contribute to the ASEAN Economic Community goals of fostering a more competitive and innovative region.
---
Find more
media releases