ARDN Stimulates The Formation Of Thailand's National Diagnostic Network
22 November 2017
---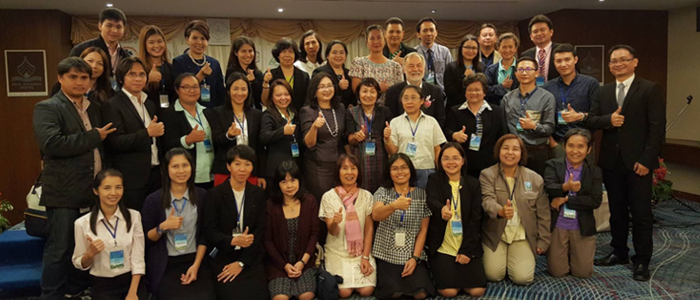 22 November 2017 - In conjunction with the 13th Thai Plant Protection Conference in Trang, Thailand, a workshop was conducted to support the formation of a national diagnostic network for Thailand as part of Phase II of the ASEAN Regional Diagnostic Network (ARDN) Project. The workshop was attended by 37 plant scientists representing the Department of Agriculture of Thailand, the Thai Rice Department, seven universities and businesses involved in agriculture sector in Thailand.
The workshop generated considerable enthusiasm for the development of a national diagnostic network. Participants recognized the significance of such a network which could (a) assist in the consolidation of plant pest information and make this information available to a wider spectrum of researchers, university lecturers, and government scientists within Thailand; (b) raise the standard of diagnostics within the country; and (c) assist researchers and university-based scientists to be aware of trade and other sensitivities associated with records of some plant pests.
All workshop participants signed up to be the foundation members of the network. Workshop participants also discussed the development of a database of experts; development of a national information system to support diagnosticians and manage information resulting from pest identifications; and Thailand's Department of Agriculture assuming a leadership role as next steps in creating the network.
Dr. Ian Naumann, ARDN Project Manager, also presented the ARDN project in a plenary address during the 13th Thai Plant Protection Conference to approximately 300 delegates. Dr. Naumann emphasised that the Project was both building diagnostic expertise and demonstrating the rewards of sharing this expertise on national and regional scales. Since 2010, the ASEAN - Australia - New Zealand Free Trade Area Economic Cooperation Support Program (AECSP) has been supporting the ARDN Project which aims to strengthen an ASEAN-wide cooperative system for delivering credible, plant pest diagnostic services. ARDN Project Phase II aims to continue the gains of Phase I by: (a) utilising expertise networks and infrastructure developed during Phase I of the ARDN Project to produce trade-related, diagnostic resources; (b) enhancing capacity and proficiency among ASEAN Member States in the identification of plant pests; and (c) promoting long-term sustainability through networking of diagnostic capacity developed during Phase I.
To know more information about the ARDN Project Phase I, kindly download the ARDN Factsheet on this link: http://aanzfta.asean.org/uploads/2016/12/ARDN-Factsheet-FINAL.pdf
---
Find more
media releases