ASEAN To Enhance Quality Of Higher Education And People-To-People Mobility
17 November 2017
---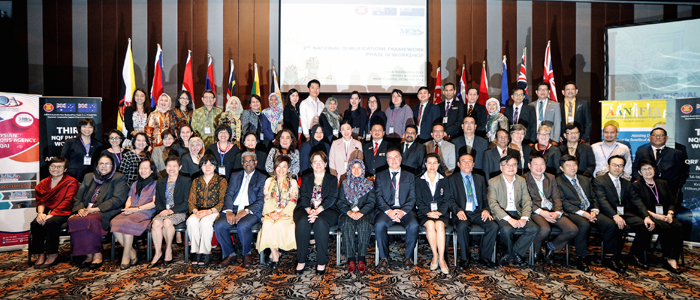 KUALA LUMPUR, 17 November 2017 -Around seventy ASEAN officials representing the education, labour, and economic sectors participated in the Third National Qualifications Framework (NQF) Phase IV Workshop yesterday. The workshop focused on developing some components of the ASEAN Referencing Report and an informal peer review exercise which served as a venue for learning exchange from the experience of the endorsement process of the European Qualifications Framework Referencing Report.
In her opening remarks, the Chair of the ASEAN Qualifications Reference Framework Committee, Ms. Rosimah Sumaimah Binti Haji Matassim from Brunei Darussalam National Accreditation Council stressed the importance of the workshop as a crucial step to progress into actual activities of the referencing process for ASEAN Member States (AMS) and reviewing process for the AQRF Committee. The workshop took a step-by-step approach to enhance knowledge, support capacity building and accumulate experience of AMS towards the development of a full-pledge AQRF Referencing Report.
On behalf of the Secretary-General of the Ministry of Higher Education, Prof. Dr. Hazman Shah Abdullah, Deputy Chief Executive Officer for Quality Assurance, Malaysian Qualifications Agency (MQA) welcomed all participants of the Workshop. He highlighted that Malaysia's strong commitment to the AQRF is part of their support to the ASEAN Community, and that through the involvement of the referencing exercise, Malaysia could learn and share with other AMS in pursuit of enhanced quality in higher education, better promotion of lifelong learning and people-to-people mobility.
The event was hosted by the MQA in coordination with the ASEAN Secretariat with support from the ASEAN-Australia-New Zealand Free Trade Area Economic Cooperation Support Programme.
---
Find more
media releases