ASEAN To Strengthen Cooperation On Competition Law Enforcement
6 September 2017
---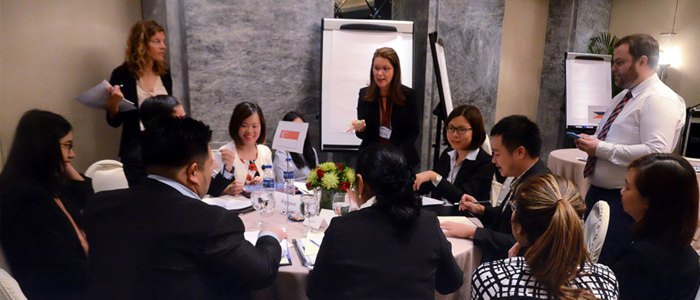 Manila, 30 August 2017 - Officials from ASEAN gathered in Manila from 28 to 30 August 2017 to discuss the means to strengthen cooperation on competition law enforcement. Each ASEAN Member State is working to implement national competition law in-line with the ASEAN Economic Community (AEC) commitments. Competition law is essential for creating an integrated, dynamic and competitive single market and production base in the AEC.
This weeks gathering aimed to refine the contents of a draft Regional Cooperation Framework (RCF) designed to serve as an interim, non-binding framework for cooperation. The RCF outlines general objectives, principles, scope and areas of cooperation among the AMS that may be achieved on a bilateral, multilateral or sub-regional basis.
Aung Min Thyke, Chair of the ASEAN Expert Group on Competition (AEGC) stated that, As entities expand their businesses across borders, competition authorities will also need to strengthen their cooperation to effectively detect, investigate and penalise infringements in a way that does not detriment nor discourage businesses from operating in the region.
At the meeting, representatives of the AEGC and senior enforcement managers in ASEAN competition agencies discussed the key elements and cooperation initiatives on competition policy and law (CPL) to be included in the RCF. They also identified the cooperation initiatives to be prioritised and piloted in the initial days of cooperation between agencies. Once finalized, the RCF will be the basis for the development of a Regional Cooperation Agreement on CPL, which is due to be adopted by all ASEAN Member States by 2020.
Eugene Chen of the Competition Commission of Singapore said the meeting was very helpful in facilitating the discussion between ASEAN competition authorities on the considerations in developing a regional cooperation framework and in promoting greater cooperation on competition policy and law in the region.
Meanwhile, Dr Benjamin Radoc of the Philippine Competition Commission stated that thinking about the essential elements of the ASEAN RCF is timely and extremely important as cross-border competition issues are increasingly inevitable amidst globalisation.
The gathering and development of the draft RCF was supported by the ASEAN-Australia-New Zealand Free Trade Area Economic Support Program under the Competition Law Implementation Program (CLIP) Phase II. Led by the Australian Competition and Consumer Commission, CLIP Phase II aims to assist ASEAN Member States to effectively implement their respective competition regulations in line with the 2025 ASEAN Competition Action Plan.
---
Find more
media releases