Australian And ASEAN Competition Regulators Cooperate On Strategic Investigation Skills Under AANZFTA
21 June 2017
---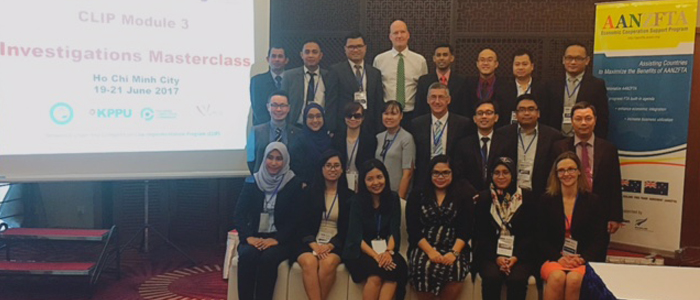 Ho Chi Minh, 19 to 21 June 2017 - Like sporting teams, companies best strive and improve when facing competition. Rivalry between businesses is now widely understood to be a key means for companies to deliver innovation and efficiency, resulting in better distributed economic growth as well as choice and value for consumers.
With the formation of the ASEAN Economic Community, each ASEAN Member State is working to adopt and implement their respective national competition law. Progress to date has been good, with nine of the ten ASEAN Member States now having enacted their national competition law. However, once the law is passed and a regulator has been appointed, next comes the significant challenge of raising awareness and enforcing the law.
To tackle enforcement, competition authorities increasingly cooperate with international counterparts, gaining efficiencies and increasing their collective impact. This week, a group of 20 officials from the national competition regulators of Australia, Indonesia, Malaysia, the Philippines and Viet Nam gathered in Ho Chi Minh City to exchange experiences and strategies for conducting effective investigations under the Investigations Module 3 Masterclass workshop.
In attendance at the workshop was Ms. Herminingrum, Senior Investigator at Indonesia's Komisi Pengawas Persaingan Usaha (KPPU), who remarked that "The Investigations Module 3 Masterclass workshop is developing participants' understanding and capability in advancing an investigation - including navigating strategic issues, both external and internal, that often arise for investigators and also for the competition agency more broadly when handling cases of suspected competition law infringements. The approach of combining theory and practice is very useful and develops the capacities and capabilities of competition agencies and participants to the challenges of investigating anti-competitive cases. Thanks to the AANZFTA Economic Cooperation Support Program (AECSP) for funding this workshop and to the presenters from the ACCC and participants from ASEAN competition agencies for the fruitful sharing of information and practical experiences on investigation!"
The workshop was organised by the Australian Competition and Consumer Commission (ACCC) and the Vietnam Competition Authority (VCA) under the Competition Law Implementation Program (CLIP) with funding from the AECSP.
Highlighting the relevance and timeliness of the workshop, Mr Phung Van Thanh of the VCA remarked, "Hosting this investigation workshop in Ho Chi Minh City is very timely and meaningful for us. Viet Nam is currently undertaking important reforms of its national competition law. Gathering with fellow regulators from ASEAN and Australia to exchange information and ideas sheds light on important issues we are grappling with in Viet Nam. Interactions during the workshop can inform our law reform process and help achieve the changes required for Vietnamese consumers to realise the choice and value that result from competition between businesses. Many thanks to our expert colleagues from the ACCC and other ASEAN countries. We hope more events like this can be organised in the future in order to strengthen the solidarity and also the capacity of competition authorities in ASEAN"
The Investigations Module 3 Masterclass workshop builds on the previous CLIP Modules 1 and 2 investigation workshops. Cooperation to enhance countries' capacities to enforce competition policy and law is a key component of the AECSP in recognition of the sector's importance and contribution in establishing a fair and dynamic business environment in the AANZFTA region.
---
Find more
media releases