Lao PDR Pledges Further Investment Climate Reforms; Welcomes AANZFTA Support And OECD Advice To Attract Quality Investment
19 July 2017
---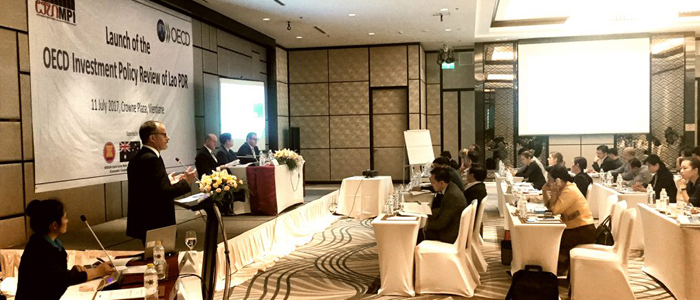 Vientiane, 11 July 2017 - Lao PDRs Vice-Minister of Planning and Investment, Dr. Khamlien Pholsena, launched the OECD Investment Policy Review of Lao PDR on 11 July in Vientiane, amidst Ambassadors and representatives of OECD and ASEAN Member States, members of the Government, development partners and private sector representatives.
Referring to key recommendations from the OECD review, the Vice-Minister highlighted the efforts by the government to improve the investment climate and noted the recent amendment of its Law on Investment Promotion, which took into consideration some of the OECD recommendations, such as the elimination of the minimum capital requirement for foreign investors in general business activities. The government is also working to ease the administrative burden on investors when starting a business and to streamline the institutional framework for investment.
Participants discussed the question of how to promote quality investment in Lao PDR, including responsible investments by multinational enterprises and investments that can diversify the economy and support inclusive and sustainable growth. The Vice-Minister thanked both the OECD for a comprehensive review supporting the Governments reform efforts and the ASEAN-Australia-New Zealand Free Trade Agreement (AANZFTA) Economic Cooperation Support Program (AECSP) for/ supporting this important initiative.
The OECD Investment Policy Review of Lao PDR covers investment policies, investment promotion and facilitation, responsible business conduct, the investment framework for green growth and other areas of the Policy Framework for Investment ? a tool to help governments improve the overall climate for domestic and foreign investment in their countries. It was finalised in April this year after extensive discussions with the Government and stakeholders in Vientiane and Paris over the past two years.
AANZFTA aims to facilitate, promote, and enhance trade and investment opportunities among its twelve Parties. Following the entry into force of AANZFTA, the AECSP was established in 2010 to operationalise and implement the free trade agreement. The AECSP has funded a total of six OECD Investment Policy Reviews of ASEAN Member States in partnership with the ASEAN Secretariat and in support of AANZFTA goals, ASEAN integration, and to help narrow the development gap. Completed or on-going reviews, as supported under the AECSP, include Cambodia, Lao PDR, Malaysia, Myanmar, Philippines, and Viet Nam.
This Press Release was jointly developed by the Ministry of Planning and Investment (MPI) of Lao PDR, OECD and the ASEAN Secretariat.
---
Find more
media releases