Strengthening Cooperation Between Competition Agencies And Aviation Regulators
24 November 2017
---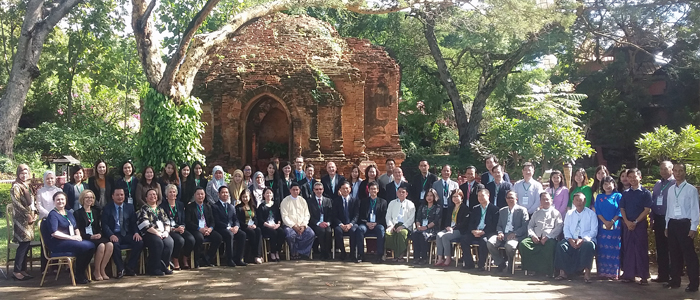 Bagan, Myanmar, 24 November 2017 - Strengthening the interface between ASEAN competition and aviation regulators was the focus of the two-day workshop on competition policy and aviation sector conducted on November 23-24 in Bagan, Myanmar.
The Workshop, which was attended by 56 officials from the transport and competition authorities of ASEAN Member States, included representatives of airline carriers, examined competition policy and law developments in the aviation sector and the complementarity of competition and regulatory instruments. It also discussed the roles and functions of both sets of regulatory authorities.
Highlighting the importance of the workshop, Mr Aung Min Thyke, Chair of the ASEAN Experts Group on Competition noted that it is important to enhance the networking between competition and regulatory officials to better promote understanding of the role of competition policy in the economy and the intersection with aviation policies.
The Workshop provided participants with a background on the key elements of ASEAN competition laws, an understanding of the role of governments in curbing anti-competitive practices, and using case studies and practical examples specific to the aviation sector. It also offered an opportunity to establish and strengthen the relationship between ASEAN competition and aviation regulators.
Mr. Viengxay Singkham, Director of Air Transport Division at the Department of Civil Aviation of Lao PDR, representing the chair of the ASEAN Transport Working Group remarked that The workshop has been a valuable opportunity to learn about the importance of competition to markets and discuss how aviation regulators and competition authorities can work together to achieve each of our goals.
The workshop was facilitated by the Australian Competition and Consumer Commission (ACCC), in partnership with Myanmars Ministry of Commerce and the ASEAN Secretariat. The workshop was part of the Competition Law Implementation Program (CLIP) which is managed by the ACCC under the ASEAN-Australia-New Zealand Free Trade Area (AANZFTA) Economic Cooperation Support Program (AECSP).
---
Find more
media releases