Accurate Identification Of Downy Mildews To Facilitate Trade In South East Asia
2 February 2018
---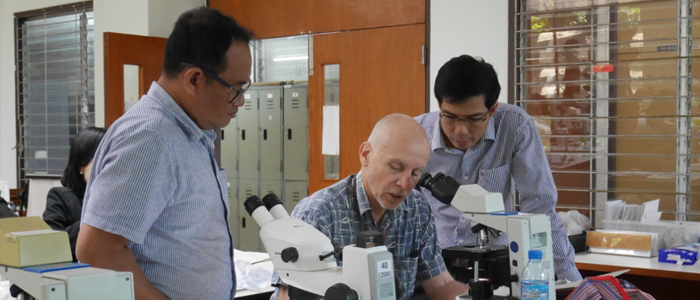 2 February 2018 - A workshop on the identification of downy mildews (oomycetes) which focused on collection and processing of samples, morphological identification and molecular diagnostic was conducted in Chiang Mai University in Thailand on 29 January - 2 February 2018.
Downy mildews are pathogens which damage a wide range of commercial crops. They can devastate crops and leave growers with nothing to take to either local or international markets. Downy mildews, like so many other plant pathogens, are of trade concern because they can be transferred accidentally when commodities move across international borders. Managing this risk starts with accurate identification. During the workshop, participants were trained on how to collect, preserve and identify these microscopic organisms and showed how traditional morphological methods of identification are being supplemented by modern molecular techniques.
The workshop, which was part of the ASEAN Regional Diagnostic Network (ARDN) Project, was attended by 15 participants from nine ASEAN Member States and five international experts. Since 2010, the ASEAN - Australia - New Zealand Free Trade Area Economic Cooperation Support Program (AECSP) has been supporting the ARDN Project which aims to strengthen an ASEAN-wide cooperative system for delivering credible plant pest diagnostic services. The current phase II of the ARDN Project aims to enhance capacity and proficiency among ASEAN Member States in the identification of plant pests and promote long-term sustainability through networking of diagnostic capacity developed during Phase I.
The workshop also kick started a new collaboration to modernise the taxonomy of downy mildews in the region, funded by the Australian Government Department of Agriculture and Water Resources as a welcome add-on to the ARDN II Project.
To know more information about the ARDN Project Phase I, kindly download the ARDN Factsheet on this link: http://aanzfta.asean.org/uploads/2016/12/ARDN-Factsheet-FINAL.pdf
---
Find more
media releases