CLIP Helps Thailand Implement Its New Competition Law
19 April 2018
---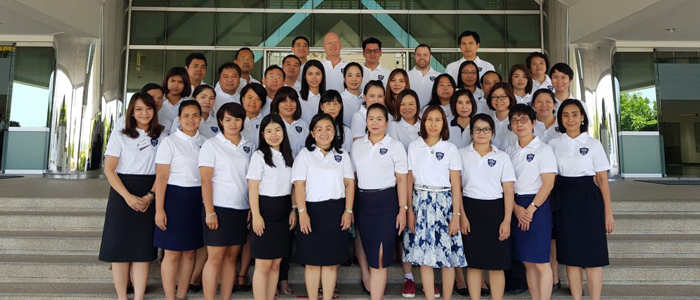 Bangkok, Thailand - A three-day workshop on interviewing and investigation skills was conducted on 17-19 April in Bangkok, Thailand to assist Thai investigators in their implementation of the new Trade Competition Act B.E. 2560 (2017) (Trade Competition Act).
The Trade Competition Act came into effect on 5 October 2017. The Trade Competition Act establishes the Office of Trade Competition Commission (OTCC) as an independent agency separate from a government ministry. The Trade Competition Act prohibits a number of practices, including unfair trade practices, monopolies and the restriction of competition.
15 officials composed of investigators, analysts and legal officers from Thailands newly reconstituted OTCC participated in the continuing series of workshops being conducted for ASEAN Member States (AMS) under the Competition Law Implementation Program (CLIP).
During the workshop, participants discussed interview techniques and processes used to hone the interviewing skills of OTCC officials. Participants worked through a number of hypothetical interviews to explore different situations and discuss various techniques to make interviews more beneficial to the OTCCs investigations.
Highlighting the importance of the workshop, Mr Nynnart Gherdlarppon, legal officer at the OTCC noted that "the interviewing workshop provides us with something we can use straight away. I will be conducting an interview next week and I will use what I've learned here in that interview."
Following the interviewing and investigation skills workshop, Mr Guy Launder, director at the Australian Competition and Consumer Commission (ACCC), will continue to work with the OTCC over the next two weeks, providing on the job training on a number of competition law topics.
Mr. Wattanasak Sur-iam, Executive Director at the OTCC, remarked that "we are excited that Guy will be here with us for the next three weeks under the OTCCs first expert placement from CLIP. During this period of establishing a new organization, I have encouraged officers to take this opportunity to ask and consult him and we have prepared particular topics of interest to discuss with him."
Expert placements are being conducted under CLIP to provide advice and technical assistance to the host agency in their implementation of competition law and sustain learning outcomes gained from CLIP trainings and workshops.
CLIP is managed by ACCC under the ASEAN - Australia - New Zealand Free Trade Area Economic Cooperation Support Program, which has been supporting CLIP since 2014. The current phase II of CLIP aims to enhance the capacity of AMS in competition law enforcement and facilitate the development of sustainable competition policy frameworks and processes.
---
Find more
media releases