Construction and competition law officials meet to strengthen competition enforcement
30 October 2018
---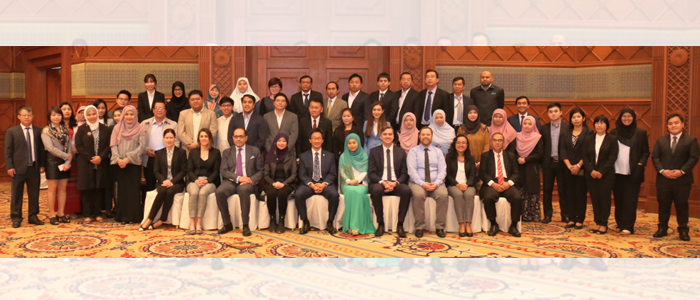 Brunei Darussalam, 31 October, 2018 - Competition law officials and construction regulators from ASEAN Member States (AMS) and the Australian Competition and Consumer Commission (ACCC) strengthened their professional networks through the Construction and Competition Regulation Workshop in Brunei Darussalam on 30-31 October 2018.
The workshop, which aimed to strengthen the interface between competition and construction regulators, focused on various regulatory structures in the construction industry and allowed the participants to closely examine their respective roles in regulating anti-competitive conduct.
Mr. Mohammad Reza, Senior Advisor to the Commission on Legal Affairs at the KPPU, Indonesia said, "This workshop has been very helpful for bringing together construction and competition officials. This was the first time we had a regional workshop with the officials from the construction regulator. We hope to continue conducting such activities to enhance the awareness of relevant sectoral regulators on competition policy and law."
The two-day workshop deepened participants understanding of the functions and roles of the various regulatory authorities including competition law and policy. This helped facilitate and enhance industry-specific knowledge for the construction industry and develop a mutual understanding of competition issues and challenges among authorities. The workshop also provided an opportunity for participants to exchange valuable and varied perspectives on investigations and enforcement in the context of the construction industry.
Combining theoretical expert presentations and practical exercises equipped workshop participants with the skills to identify and deal with cartel conduct, select and utilise appropriate advocacy tools to build and maintain trust with government and regulatory counterparts and develop relationships with key regulatory partners overseeing the construction industry in their country.
In closing the workshop, Acting Australian High Commissioner to Brunei Darussalam, Ms. Leah Mottram, stated, "The construction industry is a critical industry to any economy, and anti-competitive conduct within the industry has the potential to do real, wide reaching harm to every person. To this end, cooperation between construction and competition officials is crucial and will make a real difference to the lives of their citizens."
The activity was organized and delivered by the ACCC, with support from the ASEAN Secretariat, as part of the multi-phase Competition Law Implementation Program (CLIP), under the ASEAN-Australia-New Zealand Free Trade Area Economic Cooperation Support Program.
Currently in its third phase, CLIP focuses on supporting ASEAN competition authorities in building knowledge and practical expertise to enforce competition laws through activities that will develop individual and institutional capacity.
---
Find more
media releases