The Third ASEAN Competition Conference Focuses On Regional Competition Cooperation And Integration
6 July 2013
---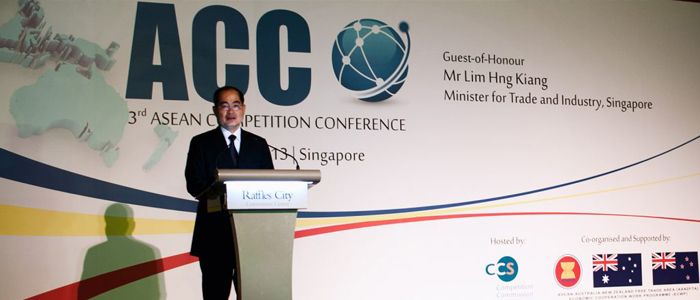 The Third ASEAN Competition Conference with the theme Moving towards Regional Integration of Competition Policy and Law taking place in Singapore on 4-5 July is looking into benefits, possible approaches and challenges in fostering greater regional cooperation and integration of competition policy and law among ASEAN Member States.
The Conference is a key platform for strategic discussions and networking among government authorities in ASEAN responsible for administering competition policy and law as well of other competition-related stakeholders in ASEAN Member States. The discussion and networking aimed at raising public awareness on the importance of competition policy and law in ASEAN region which in turn could lead to the accelerated introduction of competition policy in law in all ASEAN Member States.
The Minister for Trade and Industry of Singapore, H.E. Mr. Lim Hng Kiang made the opening address today; highlighting that competition policy and law will become increasingly important in underpinning economic growth and integration in ASEAN and that a strong competition regime enhances efficient market conduct and promotes overall productivity and competitiveness of markets in the region. The Minister urged ASEAN Member States to harmonise or at least rationalise the competition laws of each member state as far as possible, since this would not only enhance intra-ASEAN trade and investment, but also improve ASEANs competitiveness in the global market. He also highlighted that the ASEAN Experts Group on Competition (AEGC), with the support of ASEAN Secretariat, should continue to play a central role in forging regional ties, facilitating exchanges and enhancing the institutional capacities of ASEAN competition agencies.
Mr. Geronimo Sy, Assistant Secretary of Department of Justice, Philippines, as the Chairman of AEGC, highlighted in his speech that the Philippines is honoured to serve the AEGC by chairing it this year. He further highlighted recent achievements of AEGC including the conduct of capacity building activities and completion of the Handbook on Competition Policy and Law in ASEAN for Business 2013 and several initiatives to address issues that will make competition policy and law effective for the economic development of the region.
This Conference, the third of the series held regularly in ASEAN Member States, was attended by approximately 200 participants including heads of competition agencies, government officials, members of parliament, business persons, politicians, academics and the media. About 20 prominent speakers from within and outside ASEAN region delivered their presentations and exchanged views with participants at the Conference.
The Conference also marked the completion of Handbook on Competition Policy and Law in ASEAN for Business 2013, which was disseminated to the participants. The publication is available on the ASEAN Website here.
The Conference was hosted by Competition Commission of Singapore and co-organised by the ASEAN Secretariat and AEGC, under support of the ASEAN-Australia-New Zealand Free Trade Area (AANZFTA) Economic Cooperation Work Program.
Please click here for the full speech by H.E. Mr. Lim Hng Kiang, Minister for Trade and Industry of Singapore
---
Find more
media releases