---
The term "social media marketing" refers to the application of social media platforms to promote a product or a service online. Companies use social media platforms to post information about their products and services not only with the objective of promoting them, but also with a view to:
Tracking the number of views;
Identifying trends on how the general public engages with their products and services;
Collecting data and information on the demographics of the users that have engaged with their post, including location, age, etc.;
Reaching the maximum number of potential customers and effectively spreading the message to their target audiences, at a very minimal cost.
Social media websites and platforms allow companies to interact with their actual and potential customers and viewers in real time. They can post their products online and get "feedback" in the form of reviews from their customers and consumers. Platforms also allow users to "re-post", "share", or "re-tweet" information about the products and services, by sharing links to the original posting. This creates traction and online traffic for the product or service to the wider audience. Companies can, through the data analytics offered by these platforms, track how many times their original post was shared, and monitor how many views it has received, which gives a good indication of the audience reached.
In 2014, SocialMediaToday reported that "… Business retailers experience about 133% increase in revenues after marketing their business in the mobile market that promotes social media marketing value for their business … The majority of successful brands have a social media page in order to widen their marketing coverage of making their brand more accessible among the social media users." The relevant numbers are of course much higher today!
The most effective way to promote your products and services, particularly if you have limited budget, is undoubtedly to avail yourself of the array of social media platforms. The most famous and widespread social media platforms include:

Facebook
Instagram
YouTube
LinkedIn
Pinterest
As you might imagine, managing all these social networks can be time consuming and challenging. If you intend to introduce and promote your products or services to consumers using a variety of social media platforms, you should then consider adopting some "social media management tools", that automatically aggregate all the platforms that you would like to utilize for your online marketing. Such tools can help you push new content and information to your customers either all at the same time, or in a sequenced manner (through systems of auto-posting or smart queuing). These platforms also suggest best ways to post and react to posts to improve efficiency and effectiveness, and help you gather and analyse data from the users' engagement with the posts/content so that you can understand if and why your customers like or dislike your products.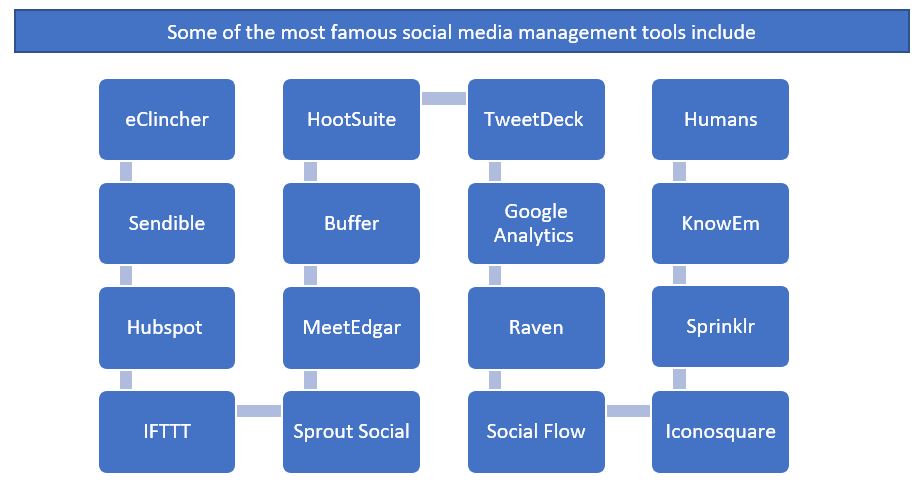 ---
Next page: Advertising
Go to the Table of Contents